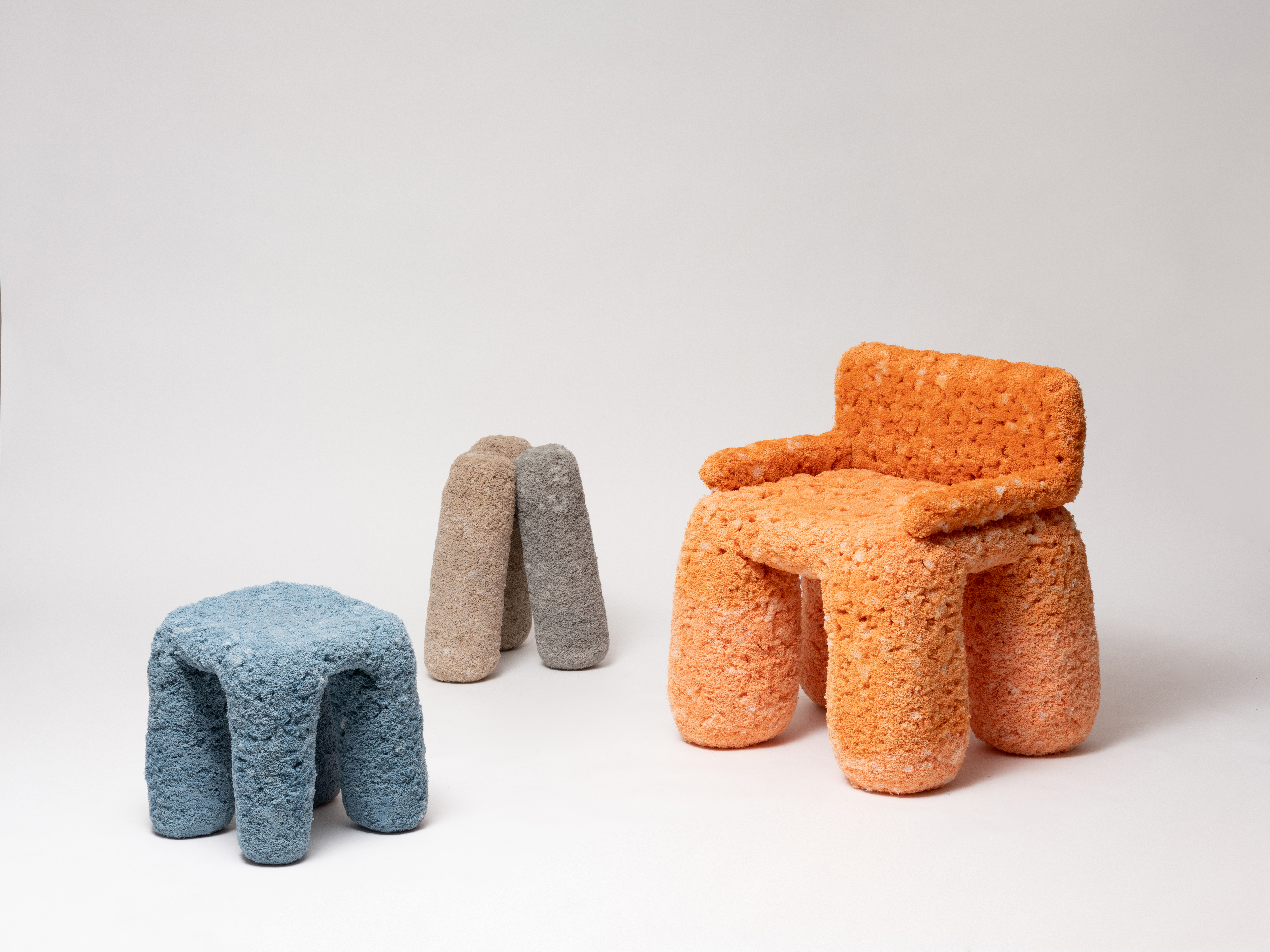 350*350*370 mm
260*260*435 mm
590*530*670 mm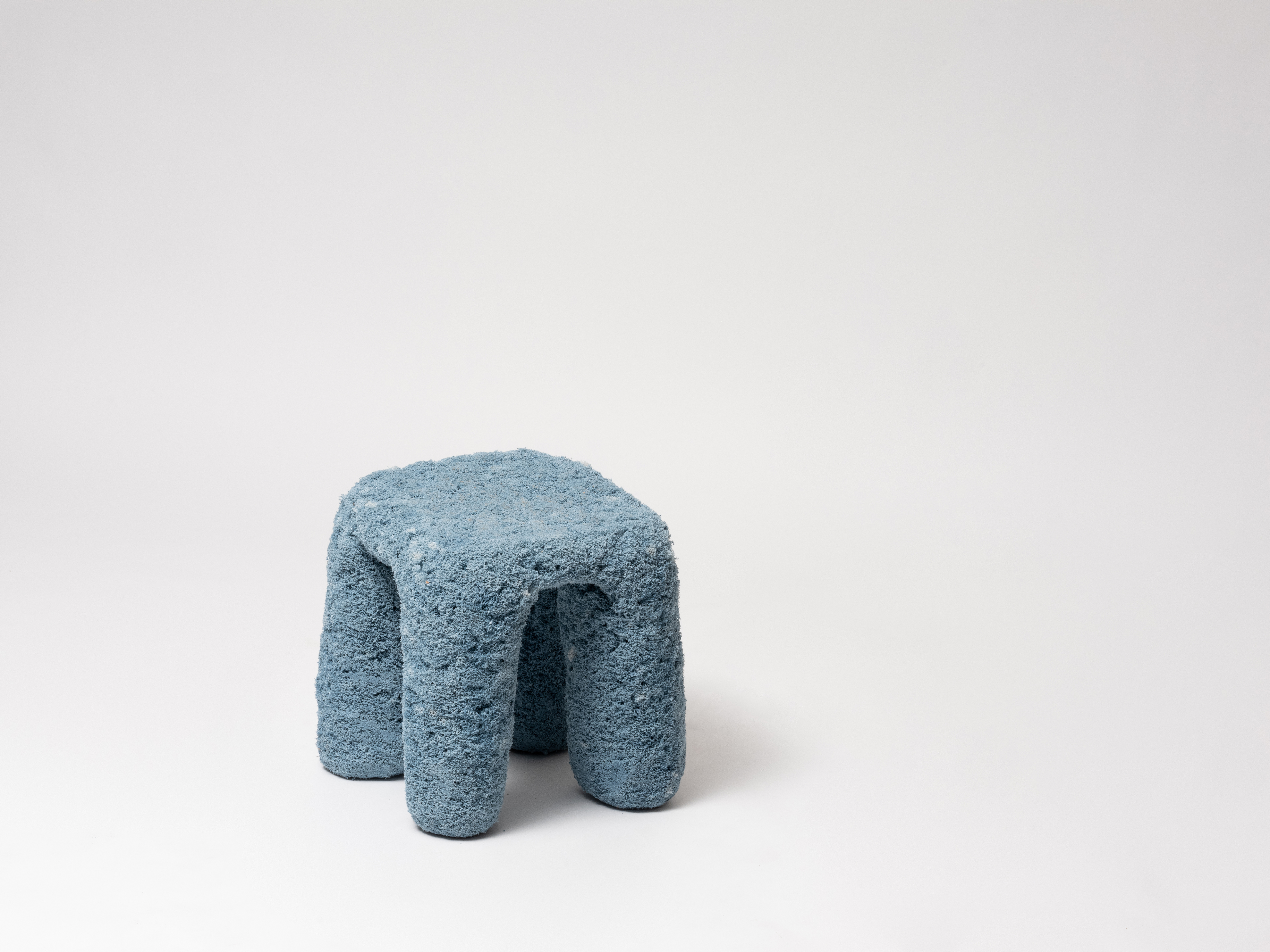 Elephant blue / Sponge, epoxy, flour paste / 350*350*370 mm



---
Biggy orange / Sponge, epoxy, flour paste / 590*530*670 mm
Elephant blue / Sponge, epoxy, flour paste / 350*350*370 mm
Sponge series
Sponge series는 스펀지의 물성과 텍스쳐, 에폭시, 밀가루풀, 그리고 아크릴 물감의 혼합
비율에 따른 밀도를 연구하여 만든 스툴과 의자이다.


이번 프로젝트의 시작점은 드로잉으로 표현된 텍스쳐이다.
가장 흥미로웠던 텍스쳐를 선정하여 소재 연구를 진행하였고, 그중 가장 드로잉 속 텍스쳐에 적합한 밀도를 가지고 있는 스펀지를 선택하여 소재에 대한 응용 가능성을 실험해보았다.
강도와 구조에 관한 연구에서 밀가루풀 에폭시 레진 그리고 스펀지가 결합 되었을 때 만들어지는 무게와 강도가 적합하다고 생각하여 밀가루 풀과 에폭시의 강도 실험을 진행하였다.
스펀지의 크기에 따라 텍스처가 달라지고, 에폭시, 밀가루풀 그리고 아크릴 물감의 혼합 비율에 따라 내구성과 밀도가 달라지기 때문에 연구를 통해 최적의 크기와 비율을 발견하여 가구의 형태로 발전시켰다.
Sponge series
The Sponge Series is a stool and chair developed after studying densities according to the mixing ratio of the sponge's physical properties and texture, epoxy, flour paste, and acrylic paint.

The starting point of this project was a texture expressed as a drawing. The most interesting texture was selected to conduct the material research. Among the textures, a sponge with the most suitable density for the texture in the drawing was selected to test the possibility of application to the material. The strength test involving flour paste and epoxy was conducted in the study of strength and structure, considering the weight and strength produced when flour paste, epoxy resin and the sponge were suitably combined. Because the texture varies depending on the size of the sponge, and durability and density vary depending on the mixing ratio of epoxy, flour paste, and acrylic paint, the optimal size and proportion were determined through research and developed into furniture form.
---
Drawings by Aaron Chai
Corgi white / Sponge, epoxy, flour paste / 350*370*440 mm
Sponges mixed with epoxy and flour paste
Material experiments and early works
Elephant blue / Sponge, epoxy, flour paste / 350*350*370 mm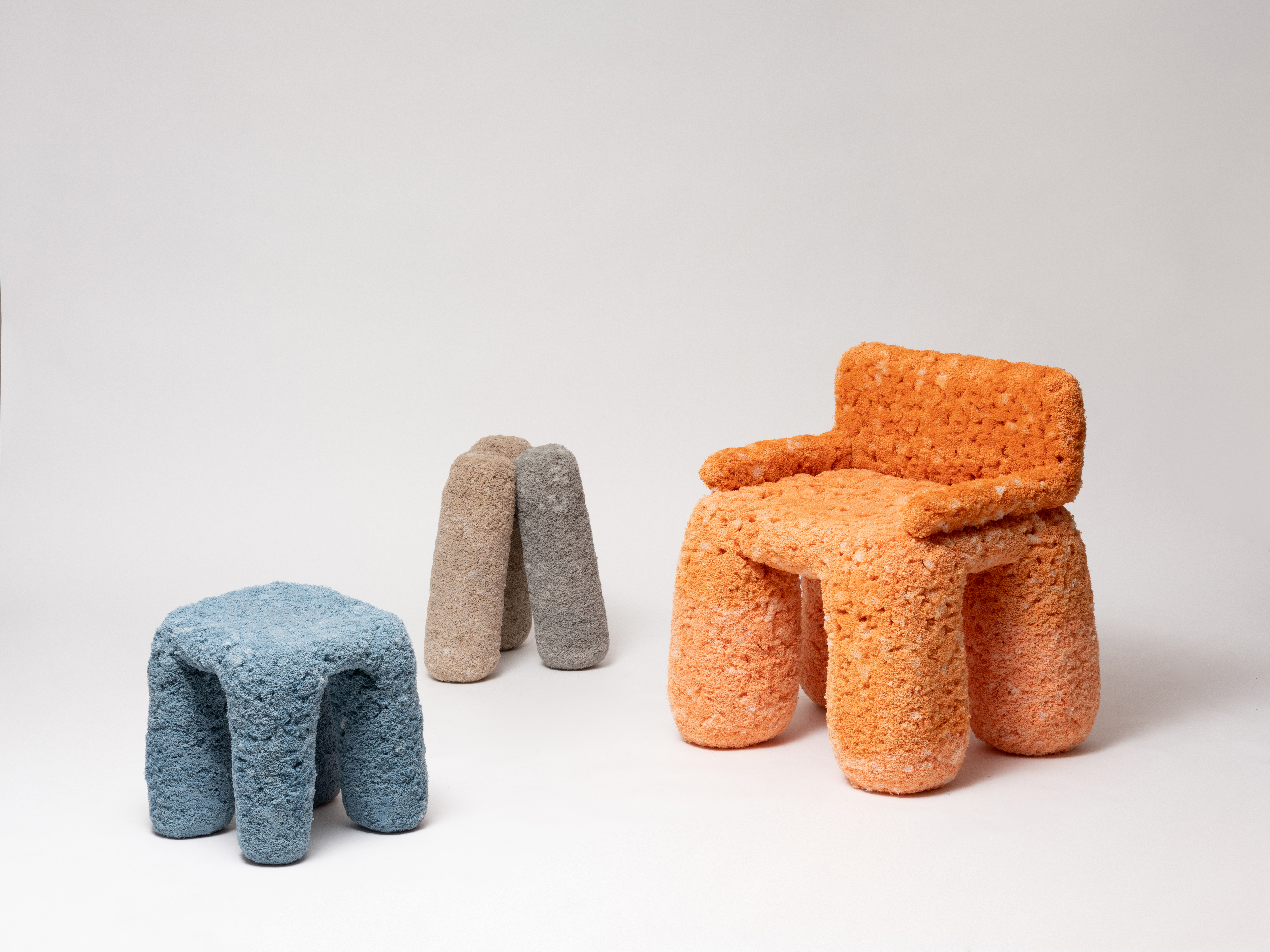 Sponge series / Sponge, epoxy, flour paste / various size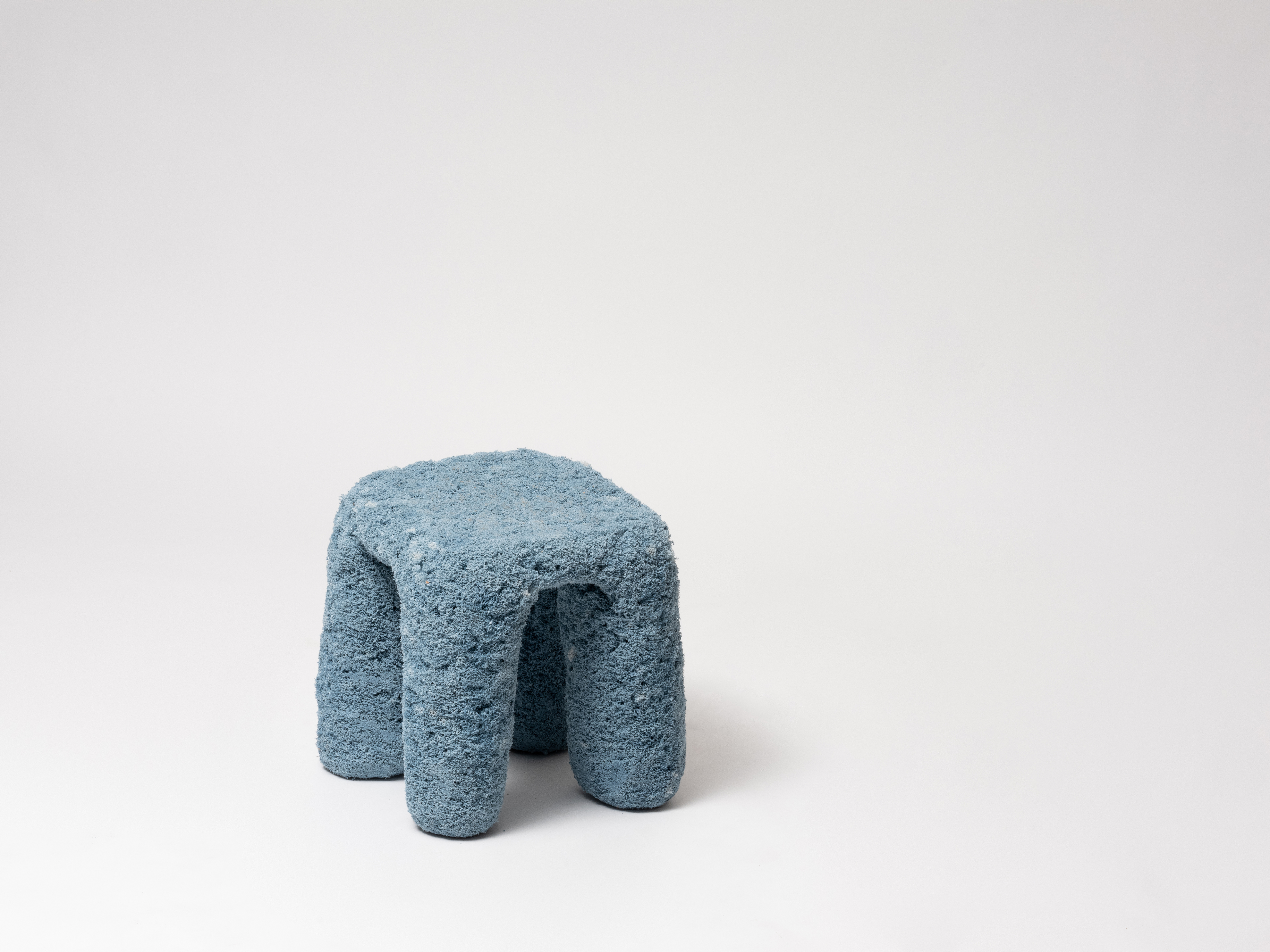 Elephant blue / Sponge, epoxy, flour paste / 350*350*370 mm
Biggy orange / Sponge, epoxy, flour paste / 590x530x670
Corgi white / Sponge, epoxy, flour paste / 350*370*440 mm
Elephant blue / Sponge, epoxy, flour paste / 350*350*370 mm
Coco brwon & Coco gray / Sponge, epoxy, flour paste / 260*260*435 mm








Sponge series by Aaron Chai
---

CHAI Aaron

aaronchaiiii@gmail.com @yusung.chai