Hangeul Apartment
Steel
aluminum
wood
plastic
880*255*1440 mm
420*420*391 mm
〈Hangeul Apartment〉는 한글의 형태를 기능적 사물로 재해석하고,
이를 다시 글꼴의 형태로 변환하는 과정 속에서의 모습을 제시한다.

〈Hangeul Apartment〉 presents the process of reinterpreting
the form of Hangeul as a functional object and converting it back into a font form. This process symbolizes the appearance of Hangeul, which extends beyond the traditional three-dimensionalization of the Hangeul and the boundaries of the media.


이 과정은 기존에 시도된 '한글의 입체화'에서 나아가 매체의 경계 위에서 확장하는 한글의 외연을 상징한다. 한글이 가진 여러 특질들이 평면에서 입체로, 다시 평면으로 매체를 통과하며 부각됨으로써 한글의 조형적 확장성을 시도한 것이다.

In this project, The various characteristics of Hangeul have been highlighted by passing through the media from plane to solid, and again through solid to plane, thereby attempting to expand the formative character of Hangeul.
'글자의 방'으로 불리기도 하는 그리드의 틀에서 벗어나 개별 유닛이 자유로운 스케일과 비례로 기능하는 모습에서 관람자는 한글의 새로운 가능성을 마주한다.

Audiences face new possibilities of Hangeul by the way individual units function freely away from the set space of the grid, also called the 'room of letters'.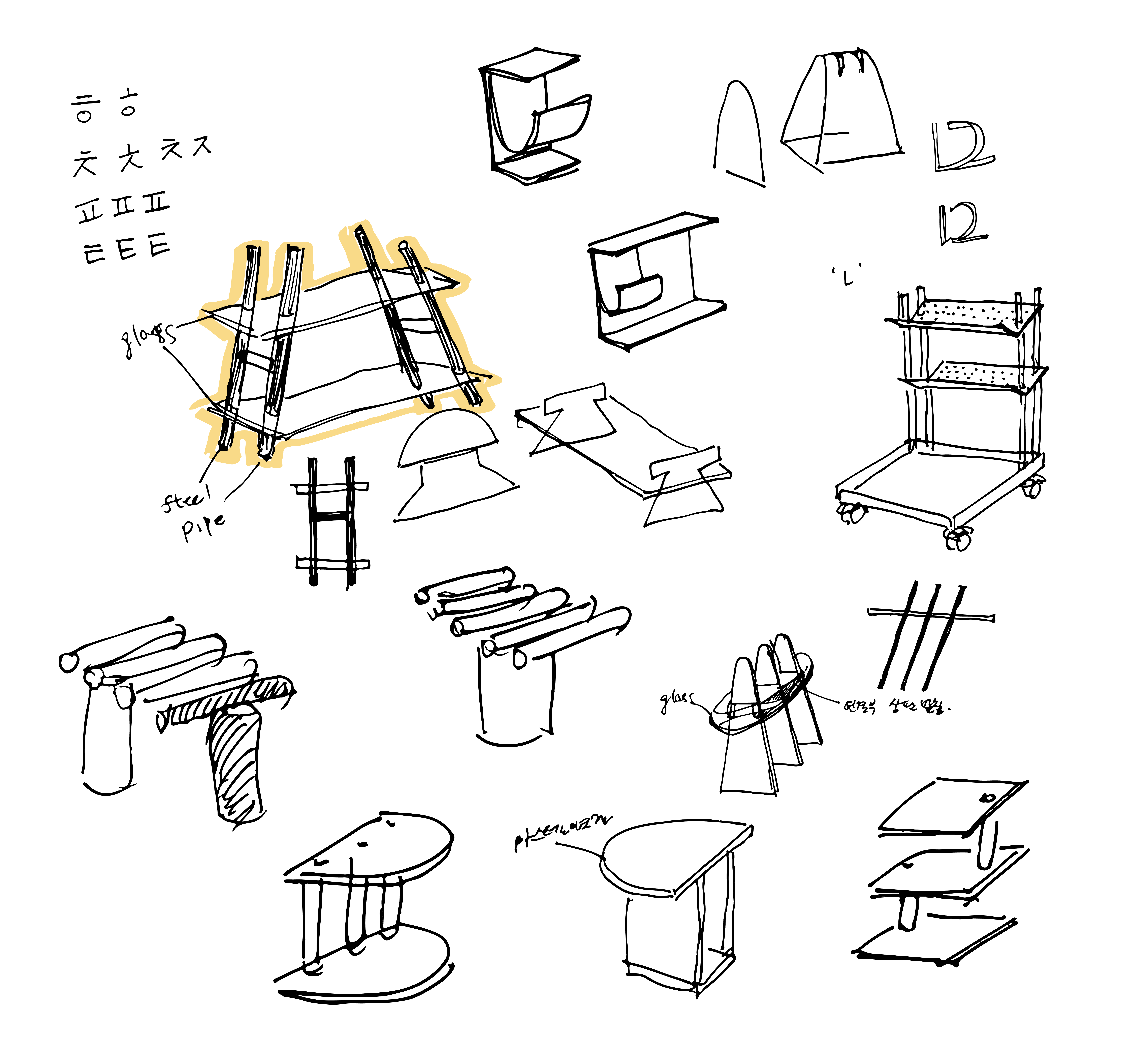 사물의 구조를 실용적 측면에서 관찰하고 응용하여 한글을 구성하는 점, 선, 면은 각 요소의 위치와 각도, 면적 등의 성격에 따라 책을 놓을 수 있는 선반이 되기도 하고 스툴의 다리가 되기도 한다.

Through observing and applying the structure of objects, the points, lines, and sides that make up Hangeul can be shelf for books and legs for stool depending on the location, angle, and area of each element.
실용을 목적으로 창제된 문자가 기능적 사물로 재구조화 되는 것이, '글자'로 대표되는 타이포그래피의 새로운 형식을 제안하는 이 프로젝트의 핵심이다.


The re-use of characters created for practical use as functional objects is the core of this project, which proposes a new format of typography represented by 'letters'.
〈Hangeul Apartment〉에서 apartment는 '쌓이다', '확장하다'를 키워드로 단순한 조형에 획을 추가하여 파생되는 한글의 특징을 상징하고, 한글의 매체 변환을 시도하며 드러나는 여러 층위의 잠재성 또한 의미할 수 있다.

In 〈Hangeul Apartment〉, it symbolizes the characteristics of Hangeul, which are derived by adding strokes to simple formations with the keywords 'stack up' and 'extend', and also means to the potential of various levels that are revealed by attempting to convert Hangeul by a medium.

Moeum(vowel) Shelf
Wood
aluminum
880*255*1440 mm





Jiut Stool
Plastic
steel
420*420*391 mm

여기서의 실용적 사물―가구―은 문자가 사물로 변용되는 과정에서
파생한 결과물이다. '단순한 구조로 충분히 기능한다.'는 대원칙 아래 이처럼 한글이 본래 가진 조형적 미감을 〈Hangeul Apartment〉 프로젝트에 드러내고자 했다.

이번 전시에서는 프로젝트의 종착지라 할 수 있는, 본격적인 '서체로의 변환' 이전 단계까지 선보인다. 앞으로 완성될 프로젝트 역시 앞서 언급한 맥락 속에서 더욱 자유롭게 변용되는 한글의 모습을 담을 예정이다.

문자의 새로운 실험적 디자인 방식과 합리적 실용 가능성을 제시할 수 있기를 기대한다.

The practical object of this project is the result derived through a series of processes that transform from text to object.
Sufficiently function with a simple structure. Under this grand principle, the original aesthetic of Hangeul was intended to be revealed in the 〈Hangeul Apartment〉 .

In here, I will show 2nd stage of the project into a typeface, the final destination. The project, which will be completed in the future, will also feature a more freely adapted version of Hangeul in the context mentioned earlier.

I look forward to presenting a new experimental design method of characters and reasonable practicality.
LEE Suzy

suzy2005@naver.com @2u_dy