Linential
14k gold
green rough diamond
gray rough diamond
cubic zircornia
various size
---
Potential of Line

'점'을 시작으로 무한하게 확장과 변형되어 새롭게 나타난 '선'이 더 나아가 실제적 '면'이 되어 산업장신구가 되기까지의 과정을 담은 디자인 프로젝트이다.
디자인 속에서 무한히 반복되는 도형의 기본 요소 중 선에 가장 주목하였다. 점을 기준으로 선이 연결과 분리되는 위치와 방식에 따라 수많은 형태를 나타낼 수 있다는 사실에 흥미를 느껴, 하나의 시그니쳐 도형에서 출발하여 어디까지 변화하여 장신구로 탄생할 수 있는지에 대한 선의 재창조 가능성을 탐색해보았다.

It is a design project that contains the process of starting with expansion and transformation of 'dots', and newly appearing 'lines', further becoming practical 'faces' and finally becoming industrial jewelry.
Among the basic elements of figures that repeated in the design, I focused on the line. I was interested in the fact that lines can represent numerous shapes depending on the location and method of connection and separation based on points. So, starting from one signature figure, I explored the possibility of re-creation of the line to see how far it can be changed and made into ornaments.

Linential_1




Linential_1
Earrings

14k gold
green rough diamond
gray rough diamond
6*10*2 mm

Linential_1
Necklace

14k gold
green rough diamond
gray rough diamond
14*11*2 mm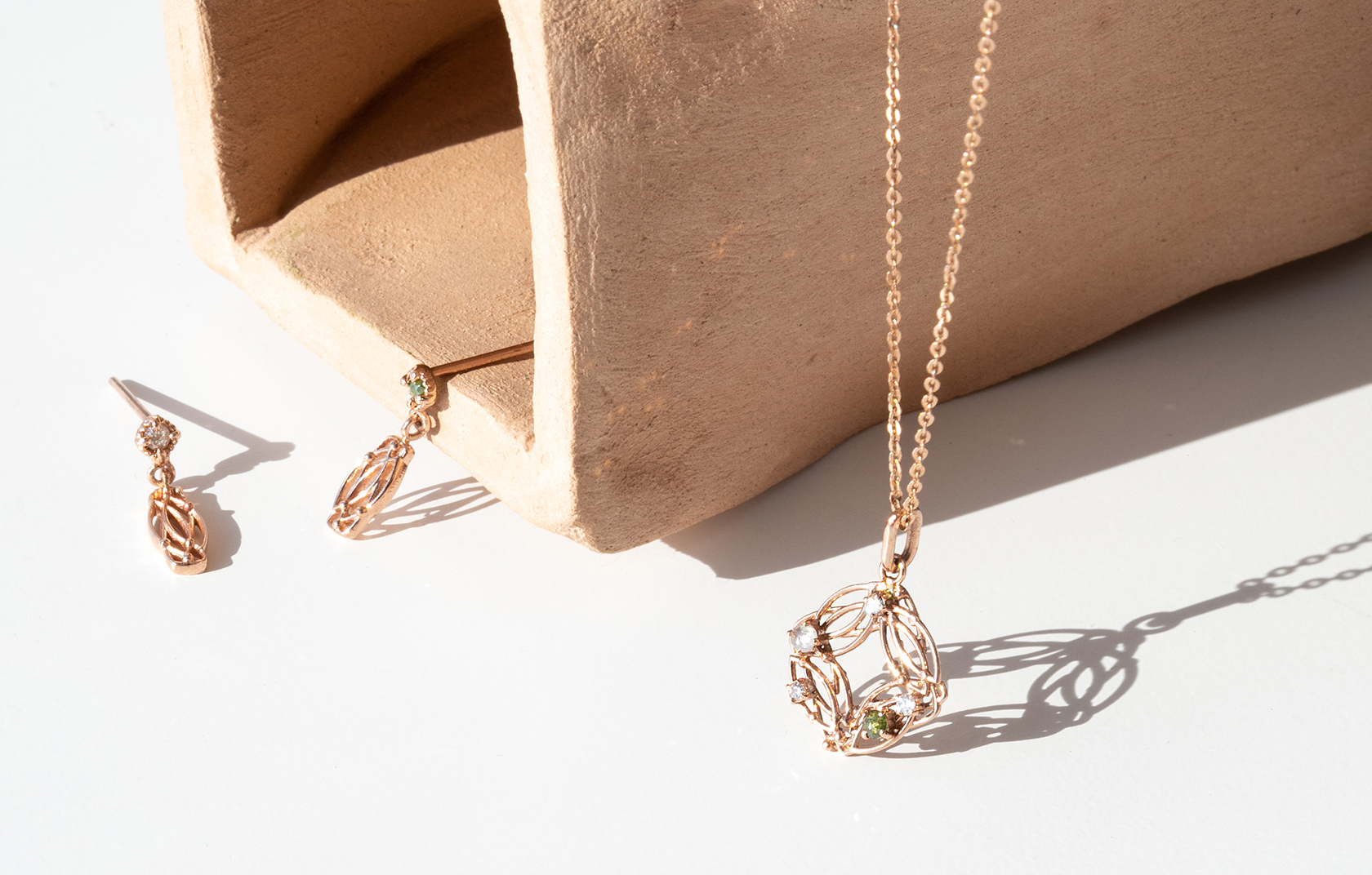 Linential_1
Necklace

14k gold
green rough diamond
gray rough diamond
cubic zirconia
12*12*2 mm
Linential_1
Earrings

14k gold
green rough diamond
gray rough diamond
4*11*2 mm
---

Linential_2




Linential_2
Earrings

14k gold
gray rough diamond
3*40*2 mm
Linential_2
Necklace

14k gold
gray rough diamond
cubic zirconia
8*18*2 mm
---

Linential_3





Linential_3

14k gold
18*18*2 mm
Linential_3

14k gold
16*16*2 mm

Linential_3

14k gold
12*12*2 mm
Linential_3

14k gold
20*20*3 mm

Linential_3

14k gold
10*13* 2 mm




HUR Yeji

yyyy1647@naver.com @am01.30