[해:류]
Copper
Various Size

둥근 물결 패턴
밀려오는 파도 아래 둥글게 퍼지는 물결의 형태를 보고 평화롭다고 느낀다. 해:류 연작은 둥근 바다 물결의 형태를 표현하기 위해 금속 판금기법을 응용하여 물결의 유기적인 패턴을 표현하는 것에 의의를 둔 작품이다.
The way the water spread in a round pattern under the surging waves feels very peaceful. The Ocean Current Series is a piece of work that focuses on expressing organic patterns of waves by applying metal sheet metal techniques to illustrate the shape of round ocean waves.
해류가 만들어내는 둥근 물결의 패턴에 초점을 맞춘 첫 번째 디자인은 항아리 형태의 금속 오브제이다. 햇살이 일렁거리는 바다 물결에 의해 반사되어 반짝이는 효과를 나타내기 위해 금속표면에 돋을새김 기법을 통해 물결무늬를 연상시키는 잔잔한 텍스쳐를 넣어주었다. 자연스러운 적동 색을 유지하기 위해 유화가리 착색기법으로 표면을 마감하였다.
The first design focused on the pattern of round waves produced by the ocean current is a jar-shaped metal object. A gentle texture reminiscent of an ocean wave pattern was added to the metal surface using embossing techniques to demonstrate the reflection of the sun and provide a sparkling effect. In order to maintain a natural redness, the surface was finished through patina with a liver of sulfur.
해류의 둥근 물결의 시그니처에서 적용했던 금속 판금기법과 텍스쳐 기법을 응용하여 물결 무늬를 부드러운 쉐입으로 변형시켰다. 비정형화된 형태의 금속 보울와 작은 소품을 담을 수 있는 트레이 이다.
By applying the metal sheet and texture technique applied in the signature of the round waves of the current, the wave pattern was transformed into a softer shape. It is a metal bowl in an irregular shape and a tray for small items.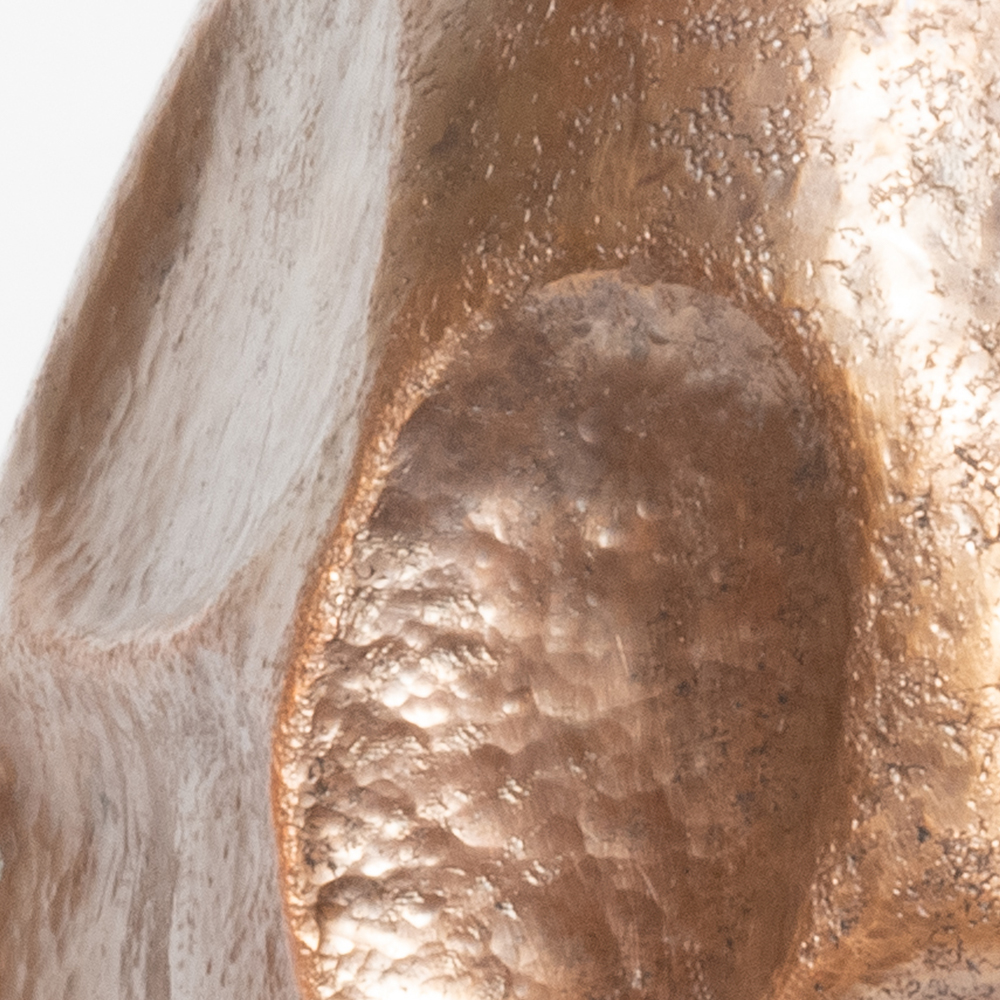 Texture




CHOI Danbee

danb1234@naver.com @choidanb